I have provided writing, proofreading, editing, translating and interpreting services to various organisations and through various agencies for over ten years. Before that I taught English as a Second Language, including foundation studies (to attend university in Australia), academic English, Cambridge First Certificate English and IELTS preparation. In 2012 I began a small business to provide writing, proofreading, editing, translating and interpreting services directly to clients. Now I am expanding the business to make it my primary source of income. Why? Because it is better for you and it is better for me. It is advantageous to me because I can work from home with low overheads and more flexibility. You benefit because you receive a quality, professional service at more affordable rates cutting out an agency and dealing directly with the professional.
If you are interested in my work history and want to know a little about me, please read on. I am married to a beautiful Indonesian princess (in my eyes that is) and speak Indonesian reasonably well. I graduated from the South East Asian Ministry of Education Organisation Regional Language Centre (SEAMEO RELC) in 1986 as a spritely, if somewhat green 20 year old. I taught English from 1987 to 1991 in Singapore for the SEAMEO RELC and then for the Japanese Kindergarten. In 1992, I returned to my country of origin, Australia, and studied Social Science at the College of Tertiary and Further Education in Sydney and Perth for three years, graduating in 1994. I taught in a kindergarten in Perth for a year, and then returned to English teaching. From 1996 to 1999 I taught in Malaysia for the International English Centre and then in 2000 I taught in Perth, Western Australia at Edith Cowan University. Thus, through study and through teaching English to those about to enter university I have gained a wealth of experience in academic writing.
From 2001 to 2012 my wife and I served as missionaries with the Watchtower Bible and Tract Society of Australia (Jehovah's Witnesses) in East Timor (Timor-Leste) where I learned the Tetum language. By 2005 I was a fully fledged member of the translation department, where I learned and honed translation, interpreting, proofreading, editing and writing skills. In 2012 my wife and I returned to Australia and I became a NAATI (National Accreditation Authority for Translators and Interpreters) accredited interpreter. This brings us full circle. Now, I'm offering you the opportunity to benefit from my skills and experience.
PHOTO'S ON THIS WEBSITE
These two photographs are my own creative (?) photography. In the picture on the right, the thesaurus, grammar book and English dictionary represent the quality proofreading, editing and writing services I offer. In the picture on the left, the Tetum, Portuguese and English dictionaries represent quality interpreting and translating services. The candlestick holders in both pictures represent diligence, going the extra mile, and good, old-fashioned, trustworthy service.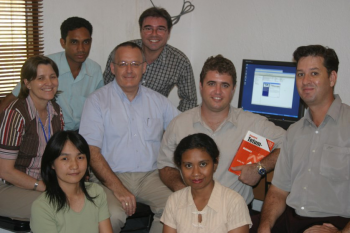 My wife (bottom right), a younger me (far right) and founding members of the translation team I worked with for many years, including trainers who taught me so much about proofreading, writing, translation and interpreting. All still very good friends.